Solution Offering
Salesforce Integration Services

eSage Group helps clients Integrate their Customer 360 data and optimize Sales and Marketing effectiveness with Salesforce. Companies large and small have turned to Salesforce's rich marketing ecosystem to improve sales engagement, marketing ROI and create a 360 degree view of the customer to offer personalized engagement across channels. Companies who leverage these Salesforce products often find it practical to partner with System Integrators like eSage Group to ensure smooth data integration and application setup/configurations in order to get the most out of their investments within rapid timeframes.
We are proud to be one of the first partners to provide implementations and managed services for Marketing Cloud Intelligence powered by Datorama. Our team of Marketing Cloud certified consultants and developers will make your project a success, no matter how complex it might be. If you need help with your next Marketing Cloud project, please contact us today to learn more about partnering with eSage Group.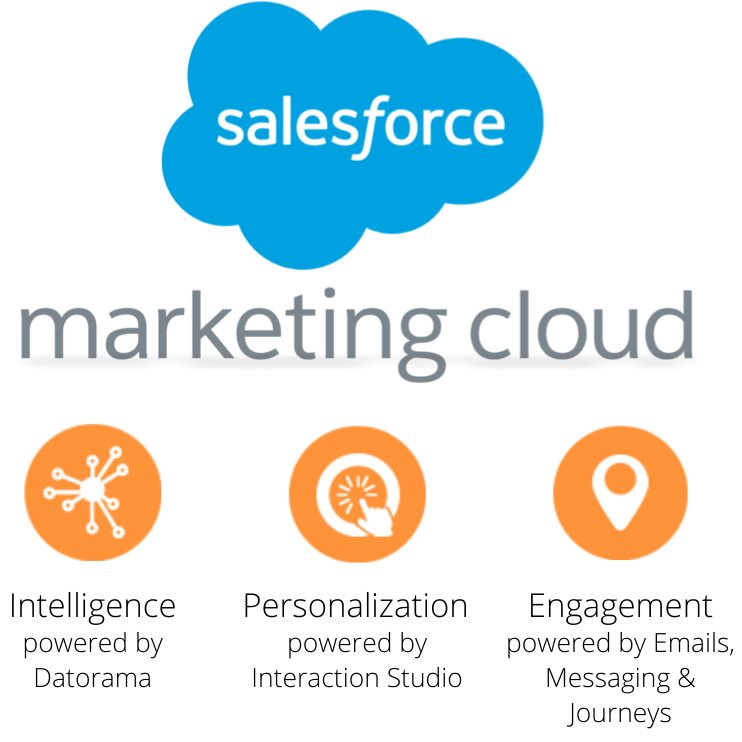 Discover why eSage Group has a
4.9 out of 5.0
Average Customer Satisfaction Rating
among Salesforce Clients
"The eSage team went above and beyond to help us find a solution to our pretty complex problem, and get our data flowing from marketing cloud into Datorama. They were very patient as we hit snags along the way, and were efficient in keeping the project moving."
"Working with eSage was nothing short from Great. They are valuable partners who go above and beyond getting projects on time and on budget." 
"The team is highly knowledgeable and very supportive. They educate you on best practices and also provide you with useful advice to help you to get the most out of Datorama. Further, in midst of challenges they lend you a helping hand."
eSage Group's Solution
eSage Group has extensive experience with complex integrations of Salesforce tools. Some of these tools include Marketing Cloud Intelligence (powered by Datorama) and Marketing Cloud Engagement (Email, Messaging and Journeys). The team also has experience with Marketing Cloud Personalization (powered by Interaction Studio) and Marketing Cloud Advertising (Advertising  Studio). As one of the very first Marketing Cloud Intelligence system integration partners at Salesforce, our team has completed numerous complex integrations for medium and large sized companies; some of these companies include Edward Jones, Univision, Windstream, Fox Broadcasting and Sony. Whether you need assistance with a straightforward, or a very complex Marketing Cloud implementation, we can help. We have a track record of efficiently meeting client goals, no matter how many data sources are involved, or how challenging the integration.
eSage Group can tie all your customer data together, no matter where it comes from, allowing you to understand all your customer touch points across multiple channels, while optimizing the customer experience and your sales and marketing efforts. In addition, our deep domain experience in the Marketing Analytics creates added value for our clients.
eSage Group also has an extensive managed services offering to help you support and upgrade an existing implementation, whether it was implemented by us or others. We can provide on demand Salesforce expertise only when you need it, saving you money while providing fast turnaround for your business-critical support needs.
Salesforce Customer Success Stories
Here are just two examples of Customer Success Stories that highlight the value we provide to our Salesforce clients:
Optimizing the Global Advertising Planning Process with Marketing Cloud Intelligence Powered by Datorama
Delivering Centralized Ad Spending Management with Marketing Cloud Intelligence Powered by Datorama
Areas Where eSage Group Can Help
Complex Data Integrations
Marketing Performance Optimization
Marketing Cloud Intelligence / Datorama Integration and Product Set Up/Configuration
Deliver best practices for Marketing Cloud Intelligence data visualization for executive consumption
Customer Data Platform development
Marketing Cloud Suite Integration and Product Set Up/Configuration
Custom add-on solutions
Ongoing Managed Services to maintain your Analytics Platform in top form
Custom Data Science and Analytics Services
If you would like help implementing a modern and efficient data driven performance management infrastructure within your organization, or would like to hear more about the similar work we have done for other leading enterprise organizations like Microsoft, Sony, Disney and Fox Broadcasting;  please contact us via email at info@esagegroup.com.
Additional comments from our clients can be found by clicking the reviews tab on eSage Group's Consultant Profile on the Salesforce AppExchange.