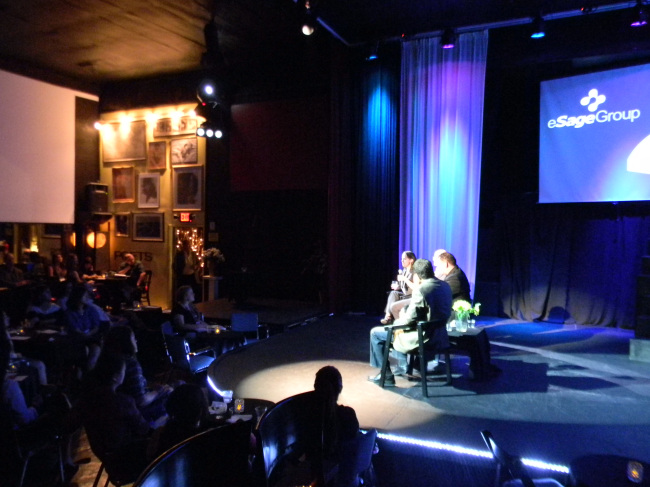 A huge THANKS and congratulations to the AMA Los Angeles and the eSage Group marketing team for putting on another fantastic Panel discussion in Studio City, CA last night – the second in our "Learning Lounge" series.  I had the honor of moderating an incredible panel of marketing experts who provided great insight into the challenges and opportunities of cross channel marketing.  The panelists were:
Sarah Johnson – Manager of Multi-Brand Scale Marketing, Nestle
Joshua Cole – Vice President, Marketing & E-commerce at Universal Studios
Doug Barasch – Senior Director Digital Marketing and Strategy at Universal Music Group
Key take-aways from the discussion include:
 Analytics in no way replaces creativity, insight and inspiration in a great marketing campaign.  Analytics  does provides clues and customer insights that help increase the number of ideas that end up being winners.
 Marketing teams should not be siloed by channels.  The focus needs to be on the customer and his/her journey across all of your channels.  If marketing teams need to be focused, target them on key segments of your customer market (teens, new mothers, hard rock fans, etc.) and have the team become experts in leading that segment through all your channels to an eventual conversion.
Gamification – coupled with a social media channel to allow customers to share game experiences can be a great way create highly engaged customers.
Marketers need to be agile, experiment and not be afraid to fail in order to keep learning and mastering the rapidly evolving landscape of marketing channel
If you missed this one, you missed out on a great learning opportunity in a fun, "loungy", environment.   But lucky for you, there are more panels in this series coming up soon!  Watch for our next Southern California Panel on Nov 14th and a Seattle Panel in Mid-January.
-Duane