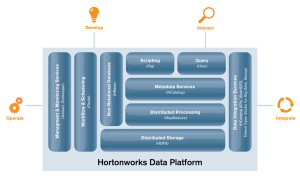 We are excited about our partnership with Hortonworks and the value it adds to our customers needing to unlock the insights that are in Big Data!
eSage Group leverages Hortonworks Data Platform to integrate Microsoft Office and Server tools with Big Data – extracting valuable marketing insights in just weeks
SEATTLE – June 13, 2012 – eSage Group, an enterprise business intelligence consultancy, today announced it has become a Hortonworks Systems Integration Partner.  Hortonworks is a leading commercial vendor promoting the innovation, development and support of Apache Hadoop. The Hortonworks Data Platform is a 100 percent open source platform powered by Apache Hadoop, which makes Hadoop easy to consume and use in enterprise environments.
eSage Group is the first Hortonworks Systems Integration Partner that specializes in delivering sales and marketing analytics using trusted Microsoft tools such as Excel, PowerPivot, and backend applications like Microsoft SQL Server in which both IT and marketers are most familiar.  eSage Group helps organizations capture and analyze structured and unstructured data (Big Data) to gain new insights that were previously not available.
"eSage Group has the unique combination of business acumen and the technical expertise to harness the vast amount of data from disparate marketing channels and make it meaningful and actionable," said Mitch Ferguson, vice president of business development, Hortonworks.  "By partnering with Hortonworks and leveraging the Hortonworks Data Platform for customer engagements, eSage Group can deliver increased value and data insights to their customers."
Helping Marketers Make Business Sense Out of Big Data
To derive value from data residing in today's vast number of marketing channels – web sites, social, CRM, digital advertising, mobile, and unstructured "Big Data" – organizations must develop robust business intelligence to extract hidden relationships across these channels and derive new insights. The result is more effective marketing campaigns, improved customer engagement, increased customer lifetime value and ultimately greater revenue.
eSage Group helps marketers bridge the gap between marketing and IT. By leveraging its Intelligent Enterprise Marketing Platform with decades' worth of business intelligence expertise, eSage Group creates a roadmap for integration that allows organizations to capture key insights in just a few weeks versus months or even years.
"Savvy marketing organizations today have an unprecedented opportunity to leap ahead of their competition by tapping the valuable customer insight locked in big data," said Duane Bedard, eSage Group President. "eSage Group couples an Agile marketing process with newly available tools to quickly and easily expose this information, allowing marketers to create targeted, rapid messaging that drives sales and engages their existing customers."
About eSage Group
Founded in 1998, eSage Group is an enterprise technology consultancy that helps marketers make sense out of marketing data, including Big Data. Leveraging its Intelligent Enterprise Marketing Platform (iEMP) with business intelligence expertise, eSage Group helps clients create and implement an agile marketing strategy and infrastructure, enabling them to map key sales and marketing goals to actionable performance metrics.  With eSage, organizations can gain deep cross-channel understanding of their customers, track which marketing campaigns are meeting their overall marketing goals, and ultimately increase revenue.  eSage Group's customers include Disney, Microsoft, Chase, Classmates.com, ViAir, Wireless Services, and many more.
About Hortonworks
Hortonworks is a leading commercial vendor of Apache Hadoop, the preeminent open source platform for storing, managing, and analyzing big data.  Our distribution, Hortonworks Data Platform powered by Apache Hadoop, provides an open and stable foundation for enterprises and a growing ecosystem to build and deploy big data solutions. Hortonworks is the trusted source for information on Hadoop and together with the Apache community, Hortonworks is making Hadoop more robust and easier to install, manage, and use. Hortonworks provides unmatched technical support, training and certification programs for enterprises, systems integrators, and technology vendors.
About The Hortonworks Systems Integration Partner Program
The Hortonworks Systems Integrator Partner Program was created to train, certify and enable a broad ecosystem of systems integrators to deliver expert Apache Hadoop consulting and integration services.