Every year organizations collect more and more data on customer "touch points".  Technology advances are allowing for the storage and analysis of data that just 5 years ago wouldn't have been possible.  More data from an ever increasing number of marketing channels presents a "secret weapon" that leading marketing organizations are using to better communicate with and engage their customer base.
Data collected from new sources like web usage logs, social media chatter, blogs, digital advertising, online media payers, and smart phone/tablet apps is exploding.  The ability to store this valuable marketing data cost effectively in new Big Data platforms like Hadoop makes the storage of these large quantities of information much more feasible than ever before.  Furthermore, the option of storing this data cheaply means that organizations can now store data at substantially increased levels of granularity.  The result of this trend is the collection and storage of very valuable marketing data that is growing exponentially.  Low cost "Big Data" storage solutions allow organizations to gain insight from data that had been previously inaccessible or too expensive to collect and store.
 As the amount of valuable data collection increases, so does the amount of untapped potential marketing value that can be extracted from this information!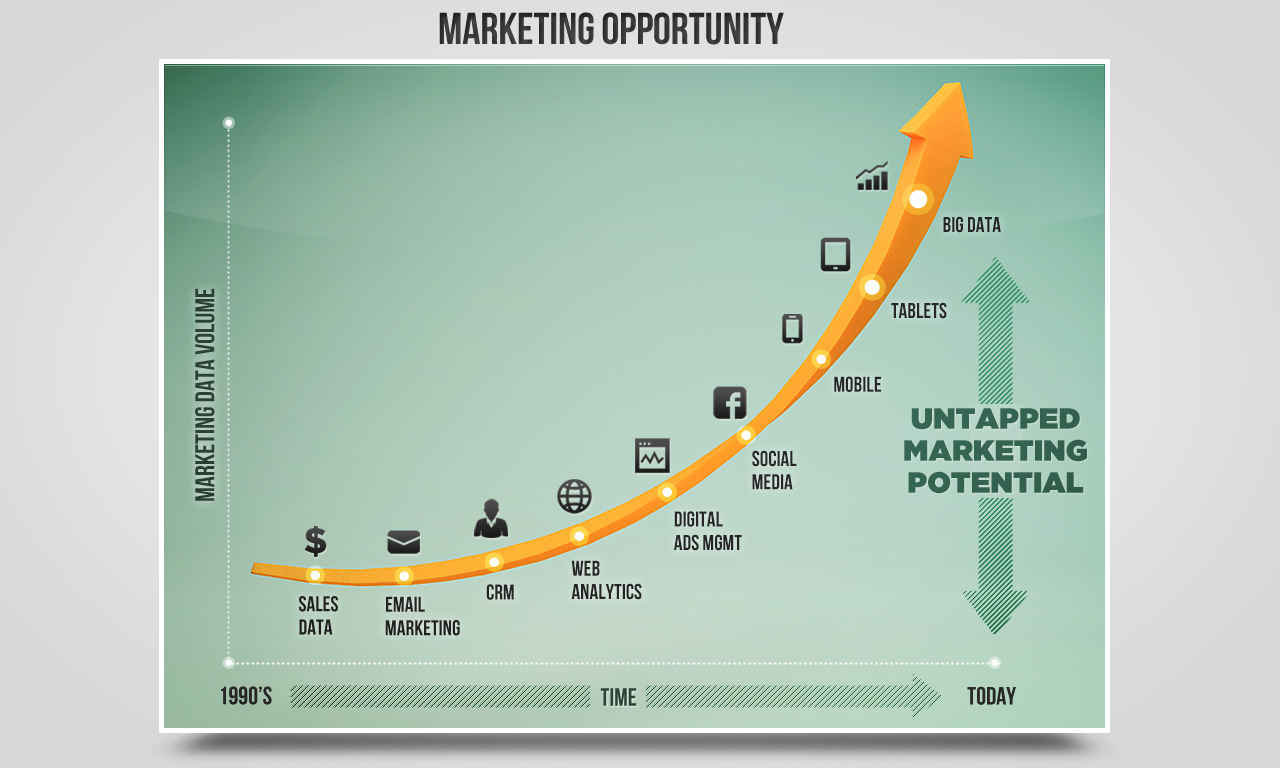 So the next question is…how can you quickly start extracting value from all this valuable marketing data to greatly improve your marketing effectiveness and overall sales, without breaking the bank.
Extracting value from this information using an Agile Marketing Approach
Marketers have a few hurdles to overcome before they can extract the desired value from all this collected data, but nothing that is insurmountable.  The main challenges fall into two buckets; technology and process.   Let's take process first:
Process
In a rapidly evolving digital environment the approaches to marketing execution must change. From a process perspective; the newer Agile Marketing approach to quickly and incrementally extract value out of your collected marketing data can prove extremely valuable.  eSage Group has developed an Agile Marketing methodology that focuses on rapid and incremental project deliverables that concentrates on the highest business value goals first, while also using the appropriate technologies and IT collaboration that allow for rapid development and cost effectiveness.
The initial focus of this approach is mapping your marketing goals to a set of realistic and valuable Key Performance Indicators (KPI's) that will allow you to track your progress against marketing goals.  Once you have a holistic set of marketing goals and KPI's you will want to prioritize them by marketing benefit to better focus development priorities.  Focus on your high benefit priorities first.  Don't try to take on everything at once or you will likely get mired down in the details with nothing to show.
Depending on your specific marketing goals; some of these KPI's will only need to track against a single channel, while others will need to track data across marketing channels to provide the necessary cross-channel performance insight you are looking for. 
The good news with Big Data storage platforms is that you can now cost effectively store large quantities of very granular data, which allows for the development of very rich KPI's that offer far deeper insight than ever possible before.  Marketers now have the ability to not only track deep metrics within one channel but across multiple channels.  So you can now track things like the number of customers that come from your social media channels to your web properties to make a purchase, or further engage with your company and digital products.  This type of information now allows you to do things like monetize your social media initiatives.  So with the appropriate forethought in your campaign design and data collection processes you can now set up the ability to track metrics across multiple channels.
Technology
Once you have all your marketing KPI's defined you will then need to make sure you are collecting all the appropriate source data to support the needs of each KPI.  If it turns out that you are not collecting all the appropriate data from the sources you will need to get this remedied so the data is there for future marketing analysis.  It is obviously ideal to define your KPI's first before a particular marketing channel is set up so you can make sure the data will be there for later analysis, but this is not always possible. 
Once you get a handle on the mapping of your marketing goals to your KPI's and your stored data, it's time to start thinking about accessing this valuable data and rapidly building some analytics reports that allow for tracking the performance of your marketing initiatives over time. 
Although tools like Hadoop are great for storing the ever increasing quantities of marketing Big Data that you are collecting, they are not great for quickly getting at this data for analysis.  We have found that if we extract the appropriate data out of Hadoop and into user friendly  and powerful database tools like Microsoft SQL Server we can provide business value to our customers in extremely short time frames (ie in weeks instead of many months as is traditional), while still offering very cost effective solutions.  For even more flexibility we find developing with a set of HTML 5 "front end" charting tools allows us to rapidly develop a single reporting/dashboard solution that can be used on both PC and tablet based devices.  The key is the appropriate set of database technologies that allow for flexible querying and application of business logic, with front end tools that allow for rapid, yet rich dashboard and reporting analytics.
This agile marketing approach requires that the technical team works very closely with the marketing team to get at the right data, build the appropriate business logic, then add a flexible reporting layer that allows for rapid development.   The ability of the Marketing team to tightly collaborate with the IT group is very important at this point.  Without this cooperation marketers can't get at all the valuable data that is being collected and the marketing potential remains locked within the Big Data repository.  
In summary, if you want to rapidly start extracting value out of the mounds of valuable data that your team has been collecting, we would recommend that you implement for following steps discussed in this article:
Start using the appropriate Agile Marketing methodology to rapidly extract value out of your marketing data.

Map your Marketing Goals to the appropriate KPI's, then to the supporting source data.

Prioritize your KPI's by marketing benefit and use this information to build a roadmap.

Establish close working collaboration between Marketing and IT groups.

Use the appropriate database and presentation technologies that allow IT teams to quickly extract information from Big Data platforms, apply business logic and present information in rich and flexible dashboards/reports that provide the analytics capability the business needs in a matter of weeks, not months.
The eSage Group has been helping companies extract marketing value from their sales and marketing data investments for years using the right combination of Agile development techniques, close collaboration between IT and Sales/Marketing groups and the right technologies that offer rapid development and cost effective solutions in incredibly short time frames.  If you would like more information about how the technical and analytics team at eSage Group can help you quickly tap the potential of your sales and marketing data, please vistit us at www.esagegroup.com .